25 ноября 2013 года родились долгожданные щенки шоколадного окраса от звёздной пары! / November 25, 2013 the long-awaited chocolate color puppies born!
В помёте 1 мальчик и 3 девочки / The litter 1 boy and 3 girls
В данный момент все щенки нашли свои любящие семьи! / At the moment, all puppies have found their loving families!
Их фотографии и достижения Вы можете просмотреть нажав на их странички в "меню" слева / Their photos and achievements you can view by clicking on their pages in the "menu" on the left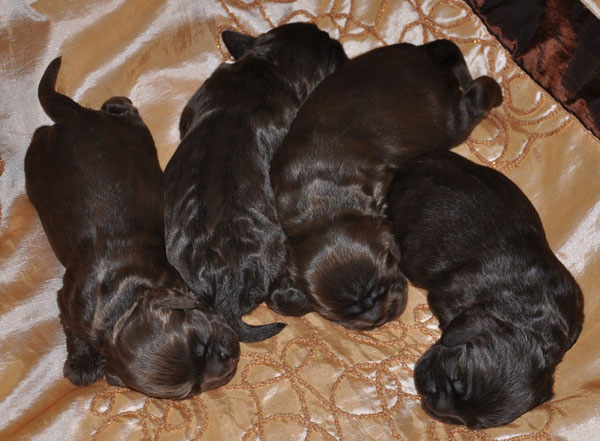 Отец щенков / father of the puppies:
BOUTIQUE CHOCOLATERIA ECLIPSE BY SPLENDOR (

Коди

)
Интерчемпион / INTERCHAMPION 
Чемпион национального клуба породы / CLUB CHAMPION
Чемпион Молдавии / CH MOL
Гранд чемпион Молдавии/ GR CH MOL
Чемпион Болгарии / CH BG
Гранд Чемпион Болгарии / GR CH BG
Чемпион Балканских стран / 
CH BALKAN'S
Юный Чемпион Украины / J CH UA
Чемпион Украины / CH UA
Лучший представитель породы в Украине / ВВВ
БП х 3 / Best Puppy*3
ЛБКx3 / Best Baby Male * 3,
Best Baby,
BIS baby-III,
ЛЩКх3,
ЛЩОх1,
ЛЩ Чемпионата породы,
2хBEST PAPPY
Ю. КЧК,
Ю. Чемпион Клуба (Junior Club Winner),
4xJ.CAC, 3xJ.BOB
19хСАС, 5xR.CACIB, 12xCACIB
16xBOB, 2хBest group-I, 5x Best groupII ,3x Best group-III, 3x Best group-IV
Best in Show II Bulgaria
Мама щенков/mother of the puppies:
Gordost Urala Yunaya Miss Mira

 (

Юка

)
Ophtalmological Examination negative (06/09.2012) 

Ch. Int, Am, Can, Rus, Hun, Blr, Ukr. EUW-08, Top Dog 08 Brickett's Beyond The Stars (Орион)x JCH RUS, CH RUS, GRCH RUS, CH KZ, CH NATIONAL CLUB OF BREEDANASTASIYA ANDROS D-JESSI JAMES (Джесси)
ИНТЕРЧЕМПИОН / INTERCHAMPION

Юный Чемпион Молдавии / JCH MOL
Юный Чемпион Польши / JCH PL
Юный Чемпион Македонии / JCH MAC
Юный Чемпион Украины / JCH UA
Юный Чемпион Белоруссии / JCH BIR
Юный Гранд Чемпион Украины / J GR CH UA
Юный Гранд Чемпион Молдавии / J GR CH MOL
Чемпион Болгарии / CH BG
Чемпион Балканских стран / CH BALKAN'S
Чемпион Молдавии / CH MOL
Чемпион Македонии / CH MAC
Чемпион Белоруссии / CH BIR
Чемпион Черногоии / CH CHORNOGORA
Чемпион Кипра / CH CY
Чемпион Румынии /  CH R
Гранд Чемпион Молдавии / GR CH MOL
Гранд Чемпион Болгарии / GR CH BG
Гранд Чемпион Кипра / GR CH  CY
Супер Гранд Чемпион Молдавии / SUPER GR CH MOL
2 х Чемпион Украины / 2 x CH UA
ВВВ  / Best of the best of breed
Победитель класса юниоров в чёрном и шоколадном окрасе на Чемпионате Франции Чемпионата Мира / The winner of the junior class in black and chocolate color at the World Cup Championship in France
Оценка "Отлично" на Чемпионате мира / Rated "excellent" in the World Cup
10хБП,  7хЛБ,   2хЛЩ,   BIS puppy I,  BIS puppy IV, 15 х  JCAC, 10 x Best Junior, 19 x BOB,
 2  x JBIG, 2 x JBIS II, 28 x CAC, 7  хСАСІВ, 5 х R.CACIB, 11 x BIG, 1 х BIG II, 2 x BIG III, BIS II, BISS II